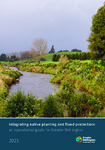 This guide is for Greater Wellington (GW) staff who carry out flood protection works. The aim is to increase the proportion of native species in riverside planting on the rivers that we manage for flood protection in the Wellington region.
We are responsible for enhancing biodiversity as well as flood protection. There are many situations where these two tasks can be complementary and better integrated. This guide explains how to recognise opportunities to do this, and put it into practise. This guide includes information on how to:
look broadly for opportunities at the river-system-scale
look for specific situations where native planting could be used
decide how to proceed, and optimise success, by using detailed criteria.