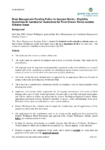 Eligibility Guidelines for Landowner Assistance for River/Stream Works outside Scheme Areas
On 9 July 1992, Greater Wellington approved the 'River Management and Catchment Management Funding Policies'.
The 'River Management Funding Policy' adopted for isolated works outside a scheme area was that Greater Wellington would fund these works up to a maximum of 30% of their cost. The owner or community contribution must be not less than 70%.