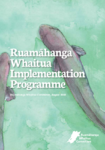 The people of the Wairarapa Valley share a love and respect for the Ruamāhanga whaitua (catchment) and its landforms, tributaries, creeks and wetlands.
The Ruamāhanga Whaitua Committee (the Committee) is made up of elected members, mana whenua (Rangitāne ō Wairarapa and Ngāti Kahungunu ki Wairarapa) and community members drawn from throughout the Wairarapa Valley. This group of people was brought together to provide recommendations to Greater Wellington Regional Council (Greater Wellington) on the way forward for land and water management in their place.
In particular, the Committee was asked by Greater Wellington to make recommendations on how to implement the National Policy Statement for Freshwater Management (NPS-FM) in the Ruamāhanga whaitua.
This Whaitua Implementation Programme (WIP) is the result of the Committee's work and conversations and is a community response to a community need for change.
In preparing this WIP, the mission of the Committee has been to develop approaches to improving water quality that meet both the aspirations of the community and Greater Wellington's statutory obligations, while also being managed with increased fairness, efficiency and accountability.