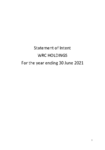 WRC Holdings (Holdings) is a Council-Controlled Trading Organisation owned by Greater Wellington Regional Council (Council). It was established to manage council's commercial investments.
This Statement of Intent (SOI) is prepared in accordance with Section 64 and Schedule 8 of the Local Government Act 2002.
The SOI sets out the performance measures, targets, objectives and activities of Holdings and forms the major part of the companies' accountability relationship with its shareholder, Wellington Regional Council.
Council issued a Statement of Expectations to Holdings in January 2020 as prescribed in section 64b of the Local Government Act 2002. This statement has been taken into account when completing the SOI.