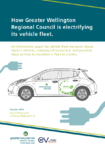 An information paper for vehicle fleet managers about electric vehicles, charging infrastructure, and practical ideas on how to transition a fleet to electric.
The Greater Wellington Regional Council (GWRC) is delivering a number of significant initiatives which impact on both our natural environment and our resilience as a region. We engage with diverse communities and receive a clear message about the activities they believe the regional council should be focused on over the next 10 years. Communities say they want reassurance that our infrastructure is resilient and the quality of our environment is protected.
We strive to set a positive example for business and community in the region. Throughout Wellington, Porirua, the Kapiti Coast, and the Hutt Valley, the leading contributor to climate change is road transport emissions. New Zealand's electricity generation is some of the cleanest in the world and offers a sustainable alternative to fuel. We therefore are working to be the first region in New Zealand to have an electric bus fleet, and encourage others to adopt electric vehicles, big and small. Looking inwardly, an annual review of our corporate carbon footprint showed our light vehicle fleet to be our leading source of our emissions. As a result, I agreed on a strong yet pragmatic approach to transitioning our light fleet to electric. We are now the first in the local government sector to adopt an 'electric first' vehicle policy.
The government has set a clear target for 64,000 electric vehicles by 2021, and is setting progressively stronger international agreements on climate change. We look forward to the rest of our sector working alongside us in delivering meaningful contributions on both accounts. Electric vehicles are an important and actionable change we can all make to protect our environment and resources.