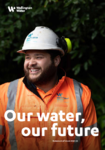 There's no longer any debate about the value of water and the need to invest in its care, both locally and nationally.
Communities in the Wellington region are feeling the impacts of aging water infrastructure with more frequent outages and service disruptions, leaks, bursts and other faults interrupting their daily lives. Pressure continues to mount to deliver the water services that communities need and expect, both now and into the future.
Councils have responded with their biggest investment to date: $585 million of capital expenditure and $279 million of operational funding over the next three years. This followed a new approach from Wellington Water, where we initially gave councils an unconstrained view of assets, their condition and the level of investment needed. We then presented a range of funding options
to address strategic priorities and finally an optimised option, that took into account the impact of COVID-19 on council finances.