The Whitireia Park Management Plan was developed over a period of two years with extensive input from the community and others with an interest in the park. The plan was approved by the Whitireia Park Board in November 2015 and Department of Conservation in February 2016 under the Reserves Act 1977.
The actions proposed in the management plan will be implemented over the next ten years. Works undertaken in the shorter term include new dog waste bins at Onehunga Bay (a common request during the consultations stages for the plan), the redevelopment of the Kaitawa Pou car park and ongoing ecological weed management on the coastal escarpments to protect and enhance the recovery of local native plants.
The Whitireia Restoration Group are active in the park and will be continuing with their important native habitat restoration programme of planting, weeding and pest control to support the park's native flora and fauna.
Whitireia Park Management Plan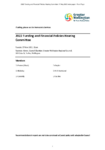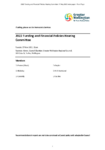 To request a printed copy, please contact parksplanning@gw.govt.nz.
---
Get in touch
Phone:

0800 496 734

Email: