Plan Goal 6: Parks are managed in highly sustainable ways, building environmental resilience as part of the natural solution to climate change.
In 2019 Council declared a Climate Emergency and prepared a Regional Climate plan and a Corporate Carbon Neutral Action plan. Within the carbon neutral action plan there is a key action for regional parks. Action 8 identifies that Greater Wellington will 'Review the future of grazing leases in regional parks as part of the review of the Parks Network Plan and options to use this land for native reforestation where appropriate to earn carbon credits'.
Toitū Te Whenua Parks Network Plan policies support this action and identify that stock grazing will be phased out in regional parks 'unless it can be demonstrated that there are significant nett recreation, conservation or community benefits, with full public access maintained' (17P). For horse grazing, Plan rules identify that the activity must be for recreation purposes and that Assessment of Environmental Effects (AEE) process is required as licences are reviewed (as per Policies 11 and 12P and Plan Rules).
This is a 'environment first' approach to support achieving the restoration of ecosystem health Plan goal and the vision of 'Restoring healthy ecosystems for the benefit of people and nature'. Healthy natural ecosystems are much more resilient to changes in climate. Healthy park environments also offer more enjoyable recreation experiences and many other ecosystem service benefits (such as water quality).
Action 8 of the Carbon Neutral Plan and Toitū Te Whenua policies are being implemented progressively as commercial grazing licences end and horse grazing licences (mostly pony clubs) are renewed. To avoid impacts such as grazing on wetlands, pugging and erosion, scientists are progressively mapping all the wetland areas in parks and important vegetation fragments to identify areas for protection and restoration. Cultural values and mana whenua kaitiaki and manaakitanga values are also a key part of this work.
At Battle Hill, the focus is shifting to education about farming heritage and restoration methods, access enhancements and supporting existing equestrian and recreation activities.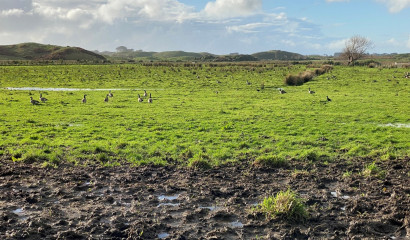 Restoring natural wetlands such as this one at QEP will help reduce habitat loss, impacts from former grazing and improve freshwater quality.
Restoring formerly drained wetlands helps reduce downstream flooding and impacts on park facilities.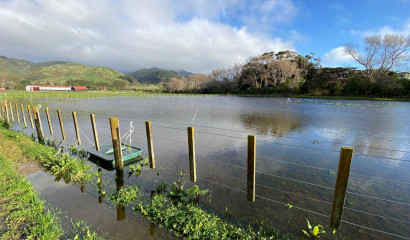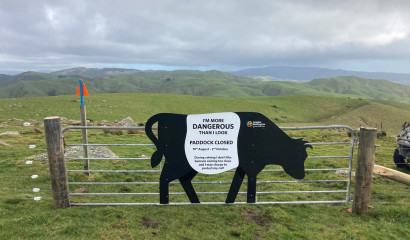 Example of temporary closure signs that went up in 2022 in Belmont Regional park due to the land being grazed. Maintaining full public access in regional park recreation reserves is a priority in Toitū Te Whenua, and to ensure people can benefit from park use, the Reserves Act limits closures to no more than 40 days a year.
---
Get in touch
Phone:

0800 496 734

Email: