Every year we produce an Annual Report of our actual performance against our intended activities and level of performance as outlined in our Long Term Plan and Annual Plan. It is a formal account for communities about the decisions Council make throughout the financial year.
To make this information more accessible, we also produce a Summary of the Annual Report, a shorter version that gives you a snapshot the work that we have delivered and how our finances were managed in that financial year. We recommend reading the Summary first, and if you want to know more, check out the full Annual Report.
The latest Annual Report is for the year 1 July 2021 to 30 June 2022. Read the Annual Report 2021/22 here:
Pūrongo ā Tau 2021/22 | Annual Report 2021/22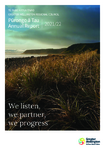 2021/22 has been a successful year of planning and partnership for Greater Wellington. We collaborated with our community and mana whenua partners to deliver key services, create a number of… Read more here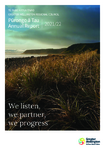 Te Pane Matua Taiao he whakarāpopoto i te pūrongo ā-tau 2021/22 | Greater Wellington Regional Council Summary of the Annual Report 2021/22

Every year Greater Wellington produces an Annual Report that looks at our achievements, compared to what we set out to do. It covers all the Council's activities and the way they're delivered and is required by section 98 of the Local Government Act 2002. It also reports against year one of the 2021-31 Long Term Plan.
This summary version gives everyone the chance to see the important information, with out the heavy (but necessary) detail.
View Summary of Annual Report 2021/22
If you would like a hard copy of the Annual Report or Summary document posted to you, please email info@gw.govt.nz or contact our Customer Service Centre on 0800 4WN REG.
---
Get in touch
Phone:

0800496734

Email: