Constituencies
Greater Wellington Regional Council currently has 13 councillors elected via a constituency system. The six constituencies represented by councillors are mapped below: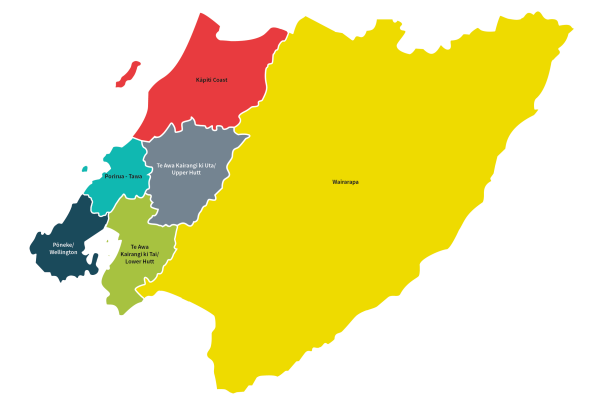 Representation review
Councils are required to review their representation arrangements at least once every six years. This review must consider:
the number of elected members (within the legal requirement to have a minimum of six and a maximum of 14 members)
the boundaries and names of each constituency
the number of members that will represent each constituency.
Councils must follow the procedures set out in the Local Electoral Act 2001 when conducting their representation review. They should also follow the guidelines published by the Local Government Commission.
The Local Electoral Act 2001 gives you the right to make a written submission to the Council on its proposed representation arrangements, as well as the right to be heard if you wish. You also have the right to appeal or object to any decisions on our representation arrangements. The Local Government Commission will then make a binding decision on the appeal.
Further details on the matters that councils must consider in reviewing their membership and basis of election can be found in the Local Electoral Act 2001. The Council last conducted a review in 2018 for the 2019 local elections. Council will conduct a representation review in time for the 2025 local elections.
M
ā

ori constituencies

The Local Electoral Act 2001 gives councils the ability to establish separate Māori constituencies for Māori electors.

Any separate Māori representation under the Local Government Act 2002 on Council is required to be based on the enrolment on the Māori electoral roll. Greater Wellington Regional Council does not currently have a separate Māori constituency.
---
Get in touch
Phone:

0800496734

Email: