Greater Wellington Regional Council consults with the community when adopting or amending a Long-Term Plan or adopting, amending, or revoking a bylaw under the Local Government Act 2002. It may also consult with the community on other matters, when the Council determines it appropriate. Council's Significance and Engagement Policy outlines how and when Council will engage with the community.
Significance and Engagement Policy
The Significance and Engagement Policy lets you know how Greater Wellington Regional Council engages with the Wellington Region's communities in its decision-making processes. It sets out Greater Wellington Regional Council's general approach to identifying the significance of decisions and our approach to engaging with the community. This policy is also a guide for elected members and council staff as to the level and form of engagement that may be required from the start of a decision making process. The Significance and Engagement policy was amended by Council on 31 October 2017.
Significance and Engagement Policy 2015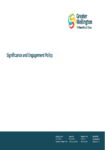 The Significance and Engagement Policy lets you know how Greater Wellington Regional Council engages with you in its decision-making processes. Read more here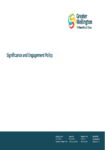 ---
Get in touch
Phone:

0800496734

Email: