Haere mai, welcome to East Harbour Regional Park
Location Eastbourne, Pencarrow Head and Wainuiomata Coast, Lower Hutt
This park is made up of three separate areas: the Northern Forest, Parangarahu Lakes, and Baring Head Ōrua-pouanui.
Opening hours
Parks are always open to foot traffic.
Description
Like a jigsaw, East Harbour Regional Park is made up of 3 separate blocks:
The Northern Forest, spanning hills from Eastbourne to Wainuiomata the forest has towering northern rata teeming with wildlife
Parangarahu Lakes, at the south end of Eastbourne and popular mountain biking around the coast to Pencarrow Lighthouse
Baring Head Ōrua-pouanui, accessed from Wainuiomata and offering rugged and remote landscapes with lighthouses and sweeping views of the Cook Strait
"This park has contrasting environments of native forest, waterways, beaches and headlands. If you're new to the area then Butterfly Creek walk is a good way to start exploring." Jo Greenman, Park Ranger
Know before you go
Dogs are welcome in the Northern Forest but must be leashed. No dogs allowed in Baring Head or the Parangarahu Lakes.

Dogs must be on a leash on the Pencarrow Road south of Burdans Gate to the lower Pencarrow Lighthouse between 31 October to 31 July. No dogs are allowed on the Pencarrow Road between 1 August to 30 October.

Read these tips to respect the environment, the trail, and other trail users before you visit. The weather can be changeable and extreme on the southern coast so be prepared.
Watch for vehicles on Pencarrow Coast Road and in Baring Head.
No swimming in Lake Kohangapirpiri or Lake Kohangatera. We do not recommend swimming on beaches south of Burdans Gate or in the Cook Strait as the currents are strong.
No quad bikes or trail bikes.
Download the park brochure
East Harbour Regional Park brochure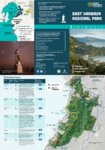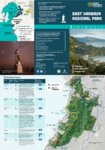 Getting there
By car
Northern Forest - The Northern Forest has a number of entrance points in both Eastbourne and Wainuiomata. If you're planning to use a specific track or trail, take note of the entrance point. Entrances are available in these areas and streets

Parangarahu Lakes area

Baring Head Ōrua-pouanui.
There are entrances at:
Eastbourne: Korohiwa Road (Bus Barn), Kowhai Street, Muritai Road and MacKenzie Road

Days Bay: Williams Park and Ferry Road

York Bay: Kaitawa Roa.

Lowry Bay: Cheviot Road and Dillon Street

Pt Howard: Howard Road and Ngaumatau Road

Wainuiomata Hill Road: Near the lookout. Approach the carpark via Wainuiomata

Wainuiomata: Lees Grove, Fraser Street, Gardiner Grove and Stanley Street
Parking
Some of these streets are narrow with restricted parking. Please be considerate of local residents and do not block driveways and entranceways.
By public transport
ferry
The Northern Forest is accessible by ferry from Wellington City. The East by West ferry departs from Queen's Wharf and lands in Days Bay, passing Matiu Somes Island on the way, making it an easy day trip from the city.
bus
Take the Metlink route 81 or route 83 bus to Marine Parade and Muritai Road (Mon-Sun) or routes 82, 84 or 85 (Mon-Fri). If you want to get to the Pencarrow Coast Road, stay on the bus until the last stop on Muritai Road. This stop will put you just five minute walk from the Bike Shed and a 10 minute walk from Burdans Gate.
By bike
Plan your route from the Hutt River Trail or Hutt Valley train line with the Hutt Valley cycle map.
Hutt Valley Cycle Map 2021 | Ko te Mahere Pahikara o Te Awakairangi 2021

Bike network of the Greater Wellington region - Ko ngā ara Pahikara o Pōneke Nui Tonu Read more here

Park management
The Toitū Te Whenua Parks Network Plan provides policies and rules for the management of our regional parks and forests, including Parangarahu Lakes in conjunction with the Parangarahu Lakes Co-Management Plan.
Parangarahu Lakes Area is unique in that it is co-managed by GWRC and Port Nicholson Block Settlement Trust (for Taranaki Whānui). The co-management plan for this area was adopted in 2015. Aspects of this plan that relate to the GWRC recreation reserve surrounding the lakes have been carried through to the East Harbour Regional Park chapter of the Parks Network Plan.
---
Get in touch
Phone:

0800496734

Email: