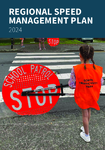 The Land Transport Rule: Setting of Speed Limits 2022 came into force in May 2022 and requires regional councils to support co-ordination of a Regional Speed Management Plan. Road controlling authorities (RCA) around the region, including Waka Kotahi who manages the state highways, will develop speed management plans in line with the agreed regional approach as outlined in the following document.
Through each RCA, there will be an opportunity to provide feedback on their speed management plan. Once available, the links to those consultations will be available here.
For regional speed management plan questions or comments, please email gwrt@gw.govt.nz.