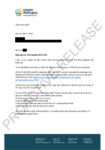 Request for information:
"I am interested in the extent to which the different public transport PTOM units are subsidised. On the 21 July 2021 and 23rd September 2021, the GWRC previously provided the patronage, fare, subsidy and PTOM Unit Commerciality Ratios for contracted public transport services for the years 2018/19 and 2019/20: https://fyi.org.nz/request/15537-request-for-pt-unit-subsidyinformation#incoming-63009
I request the same information for the months since June 2019 which is the last month for which all the requested data was provided.
For each PTOM unit for Greater Wellington public transport services (bus, train and ferry) for each year from 2020/21 until now, can the GWRC please provide:
1) The patronage data for the unit by month
2) The fare Revenue for the unit by month
3) The data that shows the extent to which the unit is subsidised by month
4) The Commerciality Ratio for the unit by month
If this information is held in electronic form, it is preferred that the information is provided in its complete and original format."
Please contact democratic.services@gw.govt.nz if you would like to be sent a copy of the attachment.