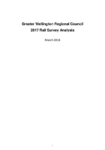 GWRC commissioned a rail survey undertaken in June 2017 to gather information to better understand travel patterns and travel characteristics across the rail network.
A sample of 2,350 passengers completed the survey across the network, with the data collection focussing on the AM peak period but also covering the weekday off-peak, PM peak and weekend.
Once cleaned, the data was expanded using automatic passenger count (APC) data to generate representative daily AM peak, Inter-peak, PM peak, weekend and annual totals form the basis for additional data interrogation.