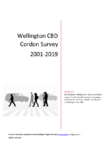 This report presents the results of surveys collected annually during March for the Greater Wellington Regional Council (GWRC) and Wellington City Council (WCC) at selected collection points around the Wellington City CBD between 2000 and 2019. This report describes recent trends in travel patterns and modal choice.
The report is divided into the following areas:
The surveys and the geographical location of the Wellington City CBD cordon
Active mode trends
Public transport trends
Private motor vehicle trends
A summary of the main findings and key results from the report.