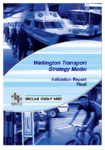 Having estimated each sub-model independently, these sub-modules were linked together in a single model. This report describes the process of model error analysis used to de-bug the linked model in Section 2, and the consequent changes made to the specification.
The final model was then subjected to validation and sensitivity testing and the results are presented in Sections 3 and 4 respectively. Note that the results presented in Section 3 are prior to any matrix estimation that was undertaken as part of the final model tuning for
specific use in project appraisal. The improved road assignment results from the matrix estimation are reported separately.