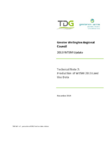 This technical note documents the preparation of the 2013 base year land use data input to WTSM.
Land use includes population, households and employment – all sourced from Census. It also includes education places sourced from the Ministry of Education.
This note includes the specification to obtain the Census land use data (Appendix A), the education data, the post‐processing undertaken, and a summary of key issues and how these were resolved. It also presents a summary of the resulting WTSM land use ‐ and how it compares to the 2006 and 2011 land use that was previously input to the model.