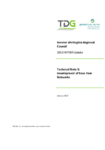 This technical note details the update of the road network and public transport services for the 2013 update of the Wellington regional transport models Wellington Transport Strategy Model – WTSM, and Wellington Public Transport Model – WPTM).
The current network used in the models was developed during the 2011 re‐validation of WTSM and development of WPTM. This note therefore details the incremental changes made to develop the new base 2013 network, which can be grouped in three categories:
Update to reflect actual changes to the network, e.g. changes at junction or new public transport services;
Fixing of minor coding issues that have been identified since 2011; and
Modifications of the network and assignment macros to include new functionalities which have been developed since 2011, to allow analysis of more detailed projects such as Bus Rapid Transit (BRT) and integrated ticketing which could not be modelled previously.
Networks used in WTSM are passed on to WPTM during a model run, so any changes made to WTSM apply to WPTM as well. There are however a few WPTM specific modifications which are also detailed in this note.