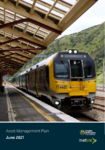 This Asset Management Plan (AMP) describes how we are building an efficient, accessible and low carbon public transport network for the Wellington region. Our multi-modal public transport network of trains, buses, and ferries provides our communities with effective travel options to access jobs, education, healthcare, cultural activities, shops, friends, and whanau. It improves the liveability and economic productivity of our region by:
Decreasing traffic congestion, particularly in the morning and afternoon peak periods, which in turn affects journey times, and journey-time reliability
Providing transport choices, including during off-peak periods
Contributing to the reduction of carbon emissions from transport
Enabling efficient land use and development of a compact, well-designed and sustainable environment.